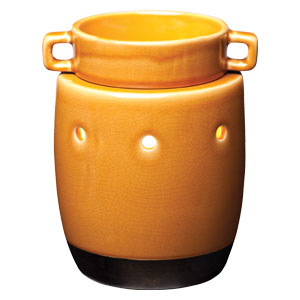 September Scentsy Warmer – Maize
As the leaves change to brilliant orange, reds, and yellows, bring the joy of autumn indoors with Maize, a bold vessel crafted in earthy, golden saffron.  A crackle glaze sets off this warmer's prize feature: a unique, two-handled dish, ready to be filled with comforting scent.  Accented by a charcoal base, speckled with flecks of gold, Maize adds organic elegance to your fall decor.
A festival of cozy warmth, combine Maize with this month's delectable Pumkin Marshmallow fragrance to highlight your family gatherings as you enjoy the fruits of a bountiful harvest.
September Scent of the Month – Pumpkin Marshmallow
Sticky, sweet marshmallow spooned onto fresh-baked pumpkin and wrapped in a graham cracker crust.
Enjoy this month's fragrance at a 10% discount all of September!!