Join Scentsy
Join Scentsy for $129!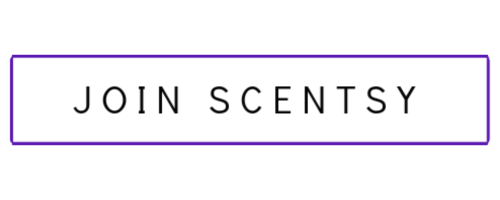 Join Scentsy Canada and Become an Independent Consultant
Scentsy  has changed my life more than you can imagine! I worked hard to get where I am, I love to help other women to become successful Scentsy consultants.  I've seen amazing results from my team members who have been able to quit their jobs, go part time on a job, pay for their children activities, car payments and to have the confidence to get over their fears.   When you join Scentsy you can earn income without it interfering with your current job or your family life.  The opportunities are endless for you to create some extra income.
*Results may not be typical. For average Consultant earnings, see the Income Disclosure provided by Scentsy*
To read about my story click the link below! Read my story here 
⭐ ⭐ Please contact me if you have questions⭐ ⭐
Carla Hunter
780-972-9499
➡️ Fill this out for more information⬅️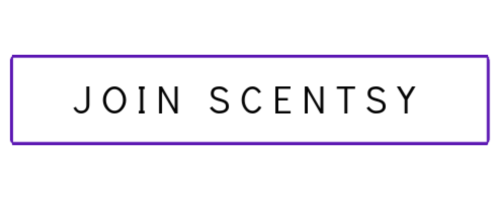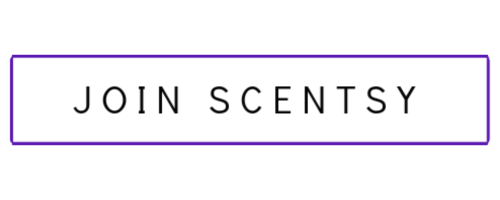 What Do You Get When You Join Scentsy?
When you become a consultant with Scentsy in Canada  through my website, not only will you receive the business supplies and Scentsy products listed in your Starter Kit but you will also receive top quality training and the extras listed below.  I personally work very hard to make sure my team is trained and updated with current Scentsy information while building your confidence to become a leader yourself!  I will help you succeed at running your own Scentsy Business. You will receive:
The Scentsy Starter kit which will include everything listed below worth over $400
Testers and Catalogs
New consultant Start Up Guide
Online training
One on one mentoring and training
Direct access to your personal sales & your recruiting results
Online Webinars
Weekly and monthly conference calls
Team training
Your own editable website first 3 months are FREE ($10US or $12CAD a month after that)
Online Forum Community
"Making Perfect Scents" customer monthly newsletter (editable and FREE)
Earn a chance to win a FREE TRIP EVERY year
Become a part of one of Canada's fastest growing team!
And any questions you have will be answered ASAP 
Please fill out this form if you are interested in joining. I will contact you shortly!
You will receive all of the above along with your Scentsy Starter Kit of $129 Canadian.  The starter kit is enough supplies to host your first couple of parties!  A very small amount to get your business started! **Read below to learn about our Starter Kit**
Our Starter Kits for 2023!
Scentsy Starter Kit:
Join Scentsy for $129
Everything you will need to have a successful business!
Classic Curve – Gloss Gray Warmer
Black Raspberry Vanilla Scentsy Bar
Luna Scentsy Bar
Slate Mini Fan Diffuser
Amazon Rain Scentsy Pod Twin Pack
Vanillamint Counter Clean
Amazon Rain Car Bar
Vanilla Bean Buttercream Travel Twist
Coconut Lemongrass Scented Stickers (1 pack of 72 stickers)
Luna Scented Stickers (1 pack of 72 stickers)
Eucalyptus Lavender Mint Oil Scented Stickers (1 pack of 72 stickers)
Twinkle Twinkle Oil Scented Stickers (1 pack of 72 stickers)
Sample Packette Bundle (Laundry, Body, Clean)
Classic Curve Felt Samples
The Art of Fragrance training kit
Fall/Winter 2023 Tester Set
Quick Start Guide
Consultant Guide
Product Training Guide
Fall/Winter 2023 Catalogs (1 pack of 20)
Fall/Winter 2023 Product Lists (1 pad of 50 sheets)
Host/Join Brochures (1 pack of 25)
Order Forms (1 pack of 100)
Invitation Postcards (1 pack of 100)
Thank You Postcards (1 pack of 100)
Mini Zip Sacks
Starter Kit Exclusive Insulated Tote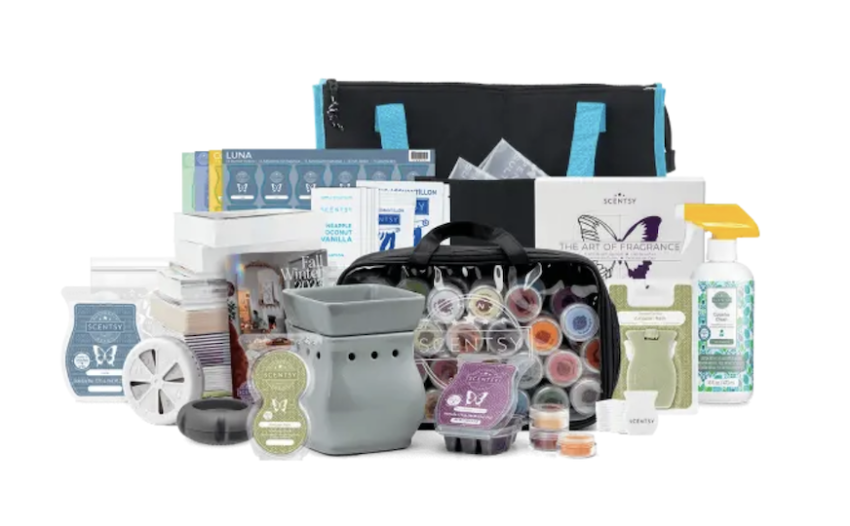 OR Join with our Hostess Exclusive Kit $77 or LESS!
Why don't you join after you host a party with me?
When you host a party (home, basket or online) you have the option to join after.  If your party gets to a qualifying party ($265) you then can join for $77 or less.  Your free hostess rewards can be redeemed to buy our Hostess Exclusive Starter Kit.  So if you have $40 in free party rewards, then your starter kit will cost you $37 plus tax!
How easy was that!  Then you also receive all the orders and are paid commission for those orders too!  So more money in your pocket!
If you would like to host a party with me, please message me and we can work something out!
CONTACT ME 780-972-9499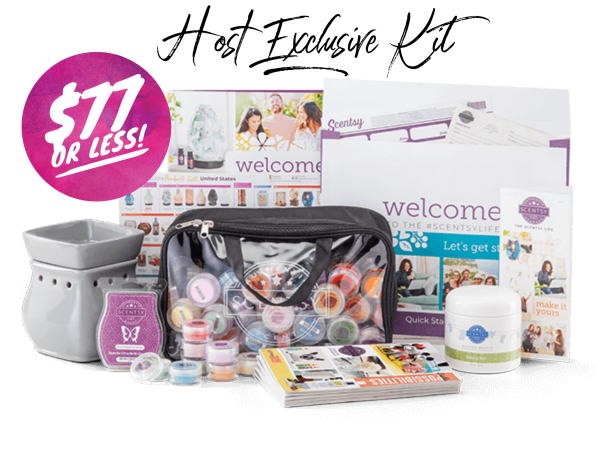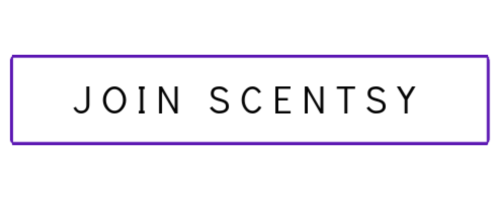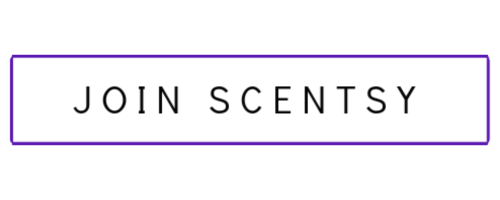 Making Money With Scentsy
Joining Scentsy, consultants earn great rewards. Scentsy offers one of the most generous compensations plans in the industry.  The day you join you automatically start earning 20% commission on all your sales. With help from our team we can give you advice on how to maximize your sales and help you step up to earn more and grow your team.  Scentsy consultants can make over 30% commission off of every sale and up to 9% in royalties from your entire downline volume.
 
How Much Money Can I Make Selling Scentsy?
There is no way to determine the amount of money you will make with Scentsy.
Every Scentsy Consultant works their business differently.  In reality if you work full time with Scentsy obviously you will earn more than someone who is selling Scentsy part-time or sells it as a hobby.  It is up to you how much money you want to earn and how much time you would like to put into your Scentsy business.
I will tell you from experience, working Scentsy as much as possible will pay off in the long run.  The more you work the faster you can earn residual income for years to come. Each consultant also focuses on different aspects of  the business.  Some consultants focus on selling lots of product and not so much on the team building. Some focus on building a team and not selling so much.  It is up to you what you want to focus on, if it's one, or the other, or both, it's up to you! I give you the tools and training and you work your own Scentsy business the way you are comfortable.
There is no real avarage Scentsy check it all depends on how much time you are willing to work.  There are lots of successful Scentsy Consultants that are making a living by running their business their way.  There are consultants that make a few hundred dollars and consultants that make a 6 figure incomes.
**I am pretty blessed to have had great success with Scentsy.  I am able to take care of my children on my own with just my Scentsy income.  I have been able to still be a stay at home mom and work this business full time from the comfort of my home.   I continue to grow and enjoy helping my team grow their teams and see them accomplish their Scentsy goals.  It is more rewarding to me to see others succeed and accomplish everything they put their minds to.
With hard work and determination, you can also achieve goals!  Read my full story here! 
Income Disclosure
Scentsy Incentives
Scentsy likes to reward their Scentsy Consultants!  Each year Scentsy makes it possible for Scentsy Consultants to take exciting vacations with family, friends and fellow consultants. Over the past few years Scentsy has enjoyed the benefits of giving away all expense paid trips to Banff, Alberta Canada, a seven day Alaskan Cruise, a trip to Hawaii, Boston, Disney World and Punta Cana…
Work At Your Own Pace
The best thing about a Scentsy business is that it's not a "one size fits all" opportunity.  You are in control and can tailor this business to your specific needs. Some Independant Consultants work full-time, while others work part-time and just dabble in the business for  just a little extra income.  Some Consultants build their business online, while others build their business locally. Some of our Independant Consultants are professional career people with full-time jobs, who build their business a few evenings each week or on weekends. Some are stay-at-home parents, who build their business around their family schedules. No matter what your lifestyle, a Scentsy business can fit your routine and schedule. Independant Consultants can earn immediate income, monthly bonuses and long term residual income (which means you get paid for years to come on the work you do now)  Plus there are incentives and other rewards. Scentsy is the perfect career choice offering flexibility to work around your busy life. As a Scentsy Independant Consultant, it's possible to earn the income you need, while still being in total control of your time.  Become a Scentsy Consultant today!!
How To Join
Joining is easy, click here to Join My Team and go through the sign-up process.  Your starter kit will be sent to you within a week from when you sign up.  If at anytime you need help with the sign-up process text me (Carla 780-972-9499) right away so I can help you through it.
As your sponsor I will help you get started with your new Scentsy business.  I will give you one on one training through phone calls and emails.  There is also online training that you can attend to help you along the way. I pride myself in being a great sponsor!  If you need any help or have questions, as your sponsor, I answer back to you as fast as possible, in most cases immediately! I will help you as much as you need, and will walk you through the start of the sign-up process to ordering products online to helping you grow your team.  I am here to help you get started!  I want you to succeed!
If you are interested in joining my fast growing team click join now or fill this out for more questions.

CONTACT ME for more information on Joining Scentsy. Use the Online Chat in the bottom corner for a quick response.

TOP QUESTIONS ASKED ABOUT WHY TO JOIN SCENTSY
Q: I'm not really a "sales-y" kind of person. Can I still be good at this?
A: At Scentsy, it's all about relationships, not hard sell tactics. If you enjoy socializing and sharing Scentsy products with friends and family, you have all the qualifications you need to succeed. In fact, the complete lack of sales pressure and the simplicity of our products are the main reasons so many Scentsy customers decide to become Consultants. They find themselves enjoying a party experience instead of having to sit through a typical sales presentation and suddenly realize, "Hey—I can do this!"
Q: What are the advantages of direct selling?
A: The freedom of being your own boss, the flexibility to set your own schedule and work as many (or as few) hours as you choose, and the limitless potential for success are just a few of the reasons people take up direct selling. And anyone can do it! You don't need a degree or a background in sales or a big chunk of start-up capital. Direct selling is an easy, enjoyable way to earn extra income.
Q: How do I get started?
A: Sign up online here www.perfectscentscanada.scentsy.ca  We'll send your Scentsy Starter Kit for just $129. It includes tester fragrances, business supplies, and demo products. Your Sponsor will help you get started and show you how to make the most of Scentsy's training and support tools.
Q: How much can I expect to earn?
A: The amount you can earn depends completely on how much time and energy you want to invest. Consultants make 20%–30% commission on their own sales as well as additional bonuses on the sales of other Consultants they sponsor. Some of our Consultants opt to sell just enough for a little extra pocket money, while our Superstar Directors can make six-figure incomes per year.  It is totally up to you how and when you want to work your business!!
Q: What other benefits does Scentsy offer to Consultants?
A: Every Scentsy Consultant gets a free website for 3 full months ($13/month after that), a free online Workstation to organize and run their business, no inventory to manage, and no credit card fees.  Plus you will also receive lots of training tools to help you along the way!
Q: What kind of support and training does Scentsy provide?
A: At Scentsy, Consultants are truly sponsored and mentored, not just recruited. Along with support from your Sponsor and your upline Director (your Sponsor's Sponsor), you'll get access to web-based training tools and an online forum for connecting with fellow Consultants. We'll send you a New Consultant Start-Up Guide, promotional products, and marketing tools. Scentsy's fully-staffed Consultant Support Department is available every weekday from 9 a.m. to 9 p.m. (MT). We also hold an annual convention and seasonal training and networking events throughout North America, Puerto Rico, and Guam.
Q: Are there any scripts to memorize or a dress code for parties?
A: Definitely not! We do provide great training tools and advice on how to have a successful party, but the way you run your parties—and your business—is entirely up to you. From formal presentations to completely unstructured gatherings to one-on-one visits, the choice is yours. We intentionally keep our product line and pricing simple because that makes it easy for our Consultants to relax and be themselves.
Q: Will I be obligated to meet any sales quotas?
A: You're free to work your business how you wish but there is a minimum requirement to stay a Scentsy family consultant.  Consultants must place 200 points in PRV during at least one month in a rolling four-month period.  If an order is not placed the consultant will be cancelled for inactivity.  Cancellation for failing to meet these sales requirements will become effective on the first day of the month immediately following the fourth month period.
Q: Do I have to do Home Parties?
A: Absolutely not!!  You can run your business your way!  Scentsy also offers Basket Parties!  Customers would book a Basket Party with you and you will give them all the scents, catalogues and order forms.  They take the Basket Party for 1 week and get their own orders then bring them back to you to order.  A lot of consultants work their business just around Basket Parties.
Q: What if this just doesn't work for me?
A: At Scentsy we realize that, even with the best of intentions on both sides, not all partnerships are meant to be. As a Consultant or a Host you're free to leave Scentsy at any time. There is no cancellation penalty!