Discover fruity, floral, feisty Pink Pepper-Scentsy's singular fragrance note of 2012.  This comforting yet contemporary scent is perfect for mixing.  Customize your fragrance wxperience by adding a cune or two of Pink Pepper to lend a full-bodied, spicy note to your favorite Scentsy Bar.
Many fragrances found in Scentsy's Spring/Summer 2012 Catalogue can be mixed with Pink Pepper.  Just look for the ScenTrend icon

in the catalogue or on your Consultant's website to explore them all and inspire your own fragrance creations!  Current fragrances for mixing include: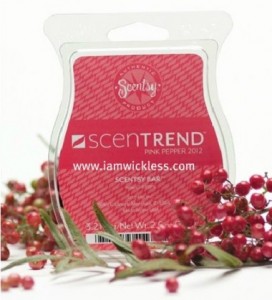 Imperial City

 Amber Road

 Paradise Punch

 Love Story

 Hendrix

 Pixie (February 2012 SOTM)
Pink Pepper will be available starting February 1st!