It's a welcome summer vacation sight: a towering lighthouse perched on a rocky seashore, promising a safe journey.  Lighthouse captures a windswept landmark in incredible detail, from its navy-and-white stripes to its window shutters and front door.  A warmer dish is cleverly hidden inside lighthouse's beacon.  Lighthouse offers a nod to coastal memories, no matter how far inland you may be.
Price $42.00
Sale $37.80 (10% OFF)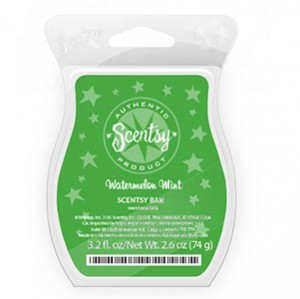 SCENTSY WATERMELON MINT
A Chilled slice of sweet watermelon, sprinkled with bracing fresh mint, makes a refreshing summer treat.
10% OFF for the month of July!!