Scentsy Let It Snow Warmer
Build a magic snowman with glee, hang colorful ornaments on the tree, go winter sledding for the thrill, find warmth in your cottage on the hill. Like a snow sculpture crafted in precious detail, Let it Snow depicts four wondrous holiday scenes drawn right from a child's sweet snow-day dream.
This is my FAVOURITE holiday warmer!  Don't miss out on this gorgeous warmer!
Enjoy this warmer at 10% off in November
$42.00   
$37.80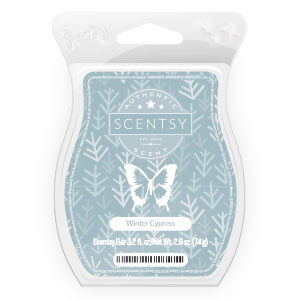 Winter Cypress Scentsy Bar
A cool kiss of mint leaf, chilled raspberry and frosted lavender is an exhilarating ode to the first breath of winter.
Scent Circle $4,oo $3.60
Scentsy Bar $6.00 $5.40
Room Spray $10.00 $9.00