Scentsy Lampshade Collection
Cast a dramatic glow with the Lampshade Collection.  Stunning and colourful hand-blown glass vases rest on antiqued warmer bases, projecting lustrous patterns and warm rays.  Every Lampshade Collection Warmer is exquisitely crafted to shine a whole new light on your personal fragrance experience.
Scentsy Tulip Shades
Sweetly old-fashioned, Tulip Shades create a romantic glow in amber gold and silvery cream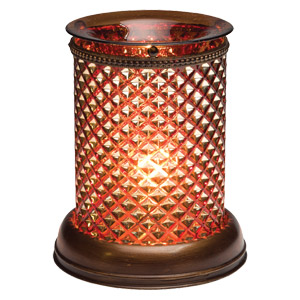 Scentsy Diamond Shades
Brilliant diamond shapes adorn each stunning glass cylinder, casting spellbinding patterns in sky blue or quartz brown.