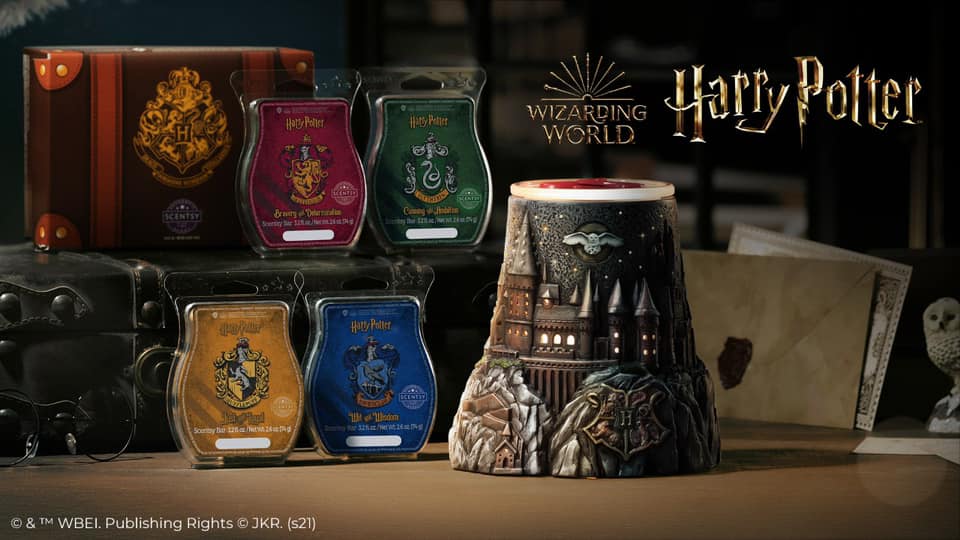 Scentsy Harry Potter products are AVAILABLE to buy beginning Thursday Feb 24!  At 11am mountain time!
Harry Potter BUY HERE

Scentsy Harry Potter Pre Orders are NOW AVAILABLE to buy as well!  If you placed one on order, log into your account and finalize payment here.
You have until April 30 to complete purchase.
BUY Harry Potter PRE-ORDER
**If you want notified when Harry Potter products are available to the general public to BUY, fill out my form here and I will EMAIL you
FILL OUT FORM
Scentsy has collaborated with Harry Potter™ to create magical, wizard-worthy products from warmers to wax fragrances, all inspired by your favourite characters and icons, including the Hogwarts™ houses and Harry Potter™.
Pay a deposit fee when you pre order July 7-14.
Pay the remaining when they arrive to be shipped out.
You will receive an email to purchase before they ship to you.
Harry Potter™ fans are among the most dedicated and passionate of any franchise, which means our magical new Harry Potter™ Collection is sure to cast a spell over your customers and your business. The collection will be available for preorder July 7-14, and includes a selection of products guaranteed to make any fan swoon:
A jaw-dropping warmer featuring a wraparound design, incredible details and an antiqued finish with plenty of shadowy depth.
A wax collection with four fragrances — each representing a different Hogwarts house — all packaged in a steam trunk-inspired box finished with a red "wax seal" that you get to break upon openingHere are the 3 product options that will be available for preorder beginning July 7:

Hogwarts – Scentsy Warmer, $20 deposit toward the full retail price of $99
Hogwarts Houses – Scentsy Wax Collection, $7 deposit toward the full retail price of $32*
Hogwarts – Scentsy Warmer and Hogwarts Houses – Scentsy Wax Collection Bundle, $20 deposit toward the full retail price of $131