NEW, NOW AVAILABLE!   An online Scentsy greeting card store featuring over 150 original, customizable, SCENTED greeting cards. You can order cards through me then you can custom design them and have them delivered to the recipients' addresses without buying stamps or going to the post office!  All cards will have a special "scent spot" that you get to choose when you are designing your card.
**NOTE**  You have to contact me Carla Hunter 780-972-9499 to place your order for Sincerely Scent credits.  I will then give you your credit code and you can go ahead and design your perfect scented cards!  You cannot order the cards online, you do need to contact me to place your card order!
Sincerely Scent makes designing your personalized card easy! Just choose a card and you will be guided through the personalization process, step-by-step. Plus, you can use the preview feature to sample various color, font, and photo options until you're satisfied with your card.
How do you create a card?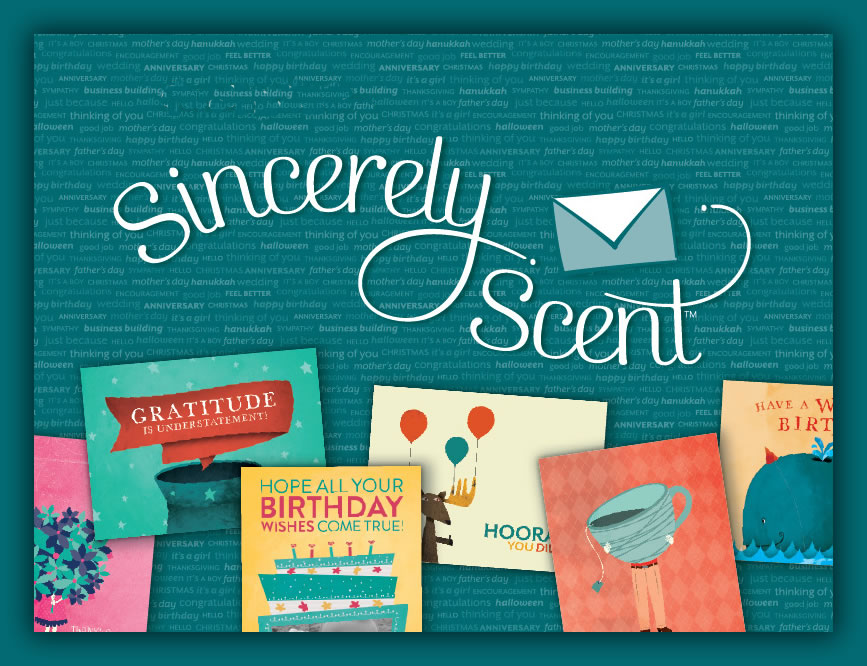 It's easy! Just follow these simple steps:
1. Call me
2. You will receive the code in your email
3. Log into www.sincerelyscent.com
4. Select your card design
5. Select your inside layout.
6. Choose your fragrance.
7. Personalize your message with text and/or photos.
8. Add a signature if you wish.
9. Enter or select your recipients' mailing address.
10.Checkout
You can personalize cards with a customized message, your favorite photo, a digital signature, AND a scent sample from the Scentsy Favorites collection. That's right–each card will be mailed with a sample infused with Scentsy fragrance, allowing the recipient to experience Scentsy as soon as they open the envelope.
Each card costs $2.85 (USD) / $3.82 (CAD) and includes postage.  You can order bundles of 10,25 or 100.