Give a Scentsy Custom Gift
Looking for a special gift for a family or business event this fall?  Scentsy Custom Gifts offer a unique and personal present custom designed for your group!  Each Scentsy Custom Gifts Bundle includes a sleek Scentsy Warmer in black or white, a customizable frame, a Scentsy Bar created exclusively for Custom Gifts, a gift bag, and a bow.  You can also tailor Custom Gifts to your fundraising needs by adding a school mascot, your team name, or school logo!
For $50 US/$60 CA each, you can give:
Sleek Custom Gifts Warmer: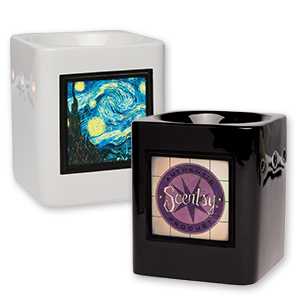 The modern lines and glossy finish combine for a display-worthy warmer that's perfect for offices or at home.  Available in Sleek White or Sleek Black.
Custom Gifts Frame:
      A magnetic frame you can customize with your own design or choose from a beautiful selection of existing art frames.
Scentsy Bar:
A remarkable medley of wax and finely crafted fragrances.  Choose one from three exclusive fragrances: Enjoy!, Thank You, or Happy Holidays.
Plus: Clear plastic bag and bow for gift wrapping.
Our simple system makes it easy to order! You'll receive your customized warmers within 30 days of approving final art.  Small order? Our minimum is only 24.
Big Order? We can handle that, too.  Increases to your order are available in multiples of 12.