Bring Back My Bar fragrances go on sale Jan 1 – Jan 31.  And we added 5 more of our top sellers!
Each Bring Back My Bar is $6, or choose how many Scentsy Bars you want from the options below and save:
3 Scentsy Bars: $17 ($1 savings)
6 Scentsy Bars: $30 (Buy 5, get 1 free)
All 25 fragrances: $126
If you would like a guide I have marked my favourites with **
These 25 Scentsy Bars were voted fan favourites and will be available to purchase NOW!
Autumn Stroll
Bananarama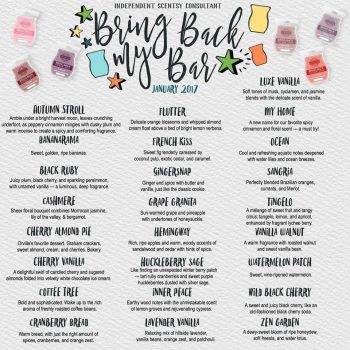 Black Ruby **
Cashmere
Cherry Almond Pie
Cherry Vanilla
Coffee Tree
Cranberry Bread
Flutter
French Kiss
Gingersnap**
Grape Granita**
Hemingway
Huckleberry Sage
Inner Peace
Lavender Vanilla
Luxe Vanilla**
My Home**
Ocean
Sangria**
Tingelo**
Vanilla Walnut**
Watermelon Patch
While Black Cherry**
Zen Garden