You can still order your favorite festive Holiday Collection products, and starting Dec. 18, remaining items from our Holiday Collection are 40% off!!!Products are available only while supplies last!!!  GO SHOPPING below to check out the SALE ITEMS!!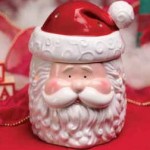 NEW Saint Nick $42 SALE $25.20
Saint Nick is an adorable portrait of everyone's favourite jolly old elf, complete with rosy cheeks, a flowing beard, and twinkling eyes! Remove his red stocking cap and you'll find a warmer dish nestled inside.
Silhouette Collection
Expand your Silhouette Collection by purchasing additional wraps individually for $14 each.
NEW Snowburst [G] $48 warmer + wrap
$14 wrap only SALE $8.40
Snowflakes float across a shiny red backdrop — flip the switch and watch Snowburst come to life!
Also Available in Joy to the World [G] and Nativity [G]
$48 warmer + wrap
$14 wrap only SALE $8.40
$48 warmer + wrap
$14 wrap only
One Silhouette Wrap included with the purchase of a warmer. Wraps designed to fit over Silhouette Collection Warmer only. Individual wraps purchased separately. Warmer may be purchased separately.
NEW Magnus the Moose $30 SALE $18.00
Meet Magnus, the newest holiday Scentsy Buddy! This soft, cuddly moose is ready for new adventures. Pair Magnus with your favourite fragrance for a perfect present.  Includes one Scent Pak.
Celebrate the season with Plug-In Scentsy Warmers
         Blizzard $24.00 SALE $14.40
 Bluster $24.00 SALE $14.40
      Gingerbread $24.00 SALE $14.40
  Silent Night $24.00 SALE $14.40