Layers by Scentsy
Layers by Scentsy–personal AND laundry care products infused with your favorite Scentsy fragrances and custom-designed for Scentsy. We worked with the best suppliers in the industry to bring you personal care products you will LOVE.
With Layers by Scentsy you can create a fragrance experience that is uniquely yours, and layer your life with fragrance.
Begin and end your daily routine with fragrance Layer by Layer. Now Available!!

Transform your morning shower from a necessity to something sublime.  let your personal fragrance leave a lingering trace with every moment.  Layers by Scentsy lets you build a fragrance that's yours alone, everyday.  Pick your favorite scents, mix and match products, and envelop your life in fragrance.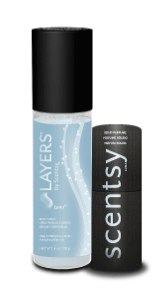 Body Spray – $10
Wrap yourself in a veil of fragrance with our Body Spray-a light mist adds a perfect touch of Scentsy fragrance.
Solid Perfume – $21
Experience our most beautiful scents in fine-fragrance perfumes.  Each silky-smooth Scentsy Solid Perfume adds the finishing touch to your Layers by Scentsy experience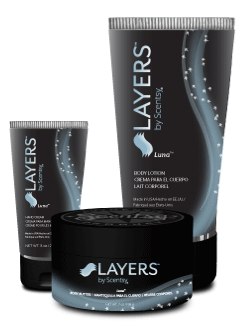 Body Lotion – $12
A beautifully scented, silky-smooth lotion containing aloe vera and shea butter.
Hand Cream – $7
A convenient tube of our shea butter-and-aloe formula you can pack in your purse.
Body Butter – $14
Our super rich Body Butter is infused with aloe vera and shea butter for a luscious-and lusciously scented-experience.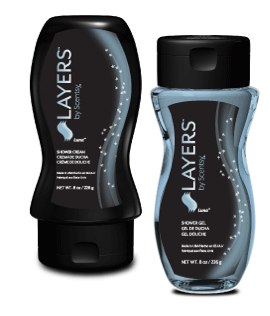 Shower Gel – $11
This lightly foaming get, containing vitamin B5, refreshed with amazing Scentsy fragrance.
Shower Cream – $14
As a little luxury to your daily shower with a creamy swirl of pampering fragrance.
Dryer Disks – $8
Toss out your dryer sheets, toss in a Dryer Disk!  Simply add one to your dryer-it will infuse your clothes with scent for up to 15 loads and fight static at the same time.  When you're done, just replace your Dryer Disk with a new one.  Comes in a pack of 2
Washer Wiffs – $14
It's pure indulgence: perfume for your clothes.  Add a cap of Washer Wiffs at the start of the wash cycle and imbue everything from your towels to your Sunday best with Scentsy fragrance.
What is Layers by Scentsy?
Layers by Scentsy is a personal fragrance experience that lets customers build a signature scent using nine personal and laundry care fragrance products. The line of nine products includes shower cream, shower gel, body lotion, body butter, body spray, hand cream, Washer Whiffs—a laundry fragrance additive that dissolves in the washing machine, and Dryer Disks—a reusable, anti-static fragrance enhancer.
Is Layers by Scentsy tested on animals?
Layers by Scentsy is not tested on animals.
Does Layers by Scentsy include any allergens or toxins?
Layers by Scentsy contains no parabens, phthalates, formaldehyde donors, diethanolamine, triethanolamine, or glycols, or any other known toxins. Layers by Scentsy products are highly fragrant, so people with fragrance sensitivities should test on a small patch of skin before using.
Are these products safe to use on my children?
Yes, Layers for Scentsy is safe for use by children.
What is the difference between "fine" fragrance and "home" fragrance?
Fine fragrance is wearable and designed with your skin in mind; it's cosmetic grade. Each individual has a unique experience wearing fine fragrance because your skin modifies the scent due to your skin pH interacting with the fragrance. Home fragrance, like the kind we use in our wax and room sprays, is not designed for your skin and is not approved for use in cosmetics.
What makes the Layers by Scentsy different from other personal and laundry care products?
It's the quality of the product. From the base material that holds the oils to the actual fragrance oils used, from packaging to duration, quality is our primary goal. Scentsy products have always been designed to deliver value in quality, price, product volume, and duration.

These products are not discontinued, please check out our current body line of products here: