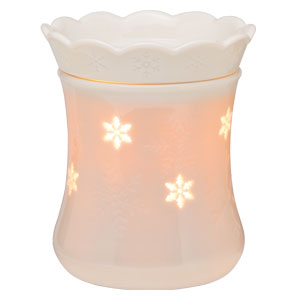 December Warmer – Blizzard
Escape the winter chill with the warm glow of Blizzard.  When unlit, Blizzard's snowflakes charm as they fall across the glossy white base and scalloped dish-turn Blizzard on, and perfectly placed cutouts cast a whimsicle winter wonderland pattern.  Take Blizzard home and discover the perfect holdiay ornament.
December Scent of the Month – Comfort & Joy
The best gifts combine the anticipation with the unexpected-just like Comfort & Joy.  Spicy, familiar woods marry with surprising white florals, pure citrus, and just a nibble of gingerbread for a winter fragrance that's anything but ordinary.
 Buy both at 10% off in December